About Us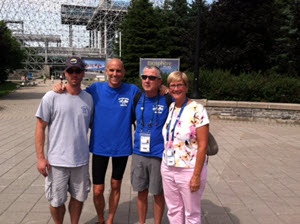 The Dayton Area Sharks (DAS) is a Masters swim team whose objective is to train and develop adult swimmers of all levels of ability.
We train the younger and the mature, we train triathletes, we train the serious and the not-so-serious swimmer, we train the experienced and the new. September through May we offer multiple work outs every week at University of Dayton, Antioch College and at Wright Patterson Air Force Base. In the summer we all swim together at the Prairies Pool near WPAFB. Chances are that we offer a practice near you that works with your schedule.
We are here to develop you as a swimmer. We do so while trying to have as much fun as possible. Competition is purely optional. For those interested we participate in local, regional, national and international meets (with much success and a lot of team fun!)
We believe that technique is the quickest way to become a better swimmer. We use our knowledge and experience to develop your stroke technique so that you can improve as much as possible. We believe that every swimmer needs diversity in their work out. Balance is the key. Sprinters need speed and endurance. Distance athletes need aerobic capacity and strength and the ability to peak. We strive to have our work outs be diverse, educational, challenging and fun.
Our team is quite unique in that we are 100% volunteer with no team fees. We have an experienced coaching staff that consists of nationally recognized swimmers. All of our coaches are long time experienced swimmers who still compete and all have taken the time to complete coaching certification/training.
Our team goal says it all: "Improve the fitness and overall swimming ability of every member of the team to continue a lifelong healthy lifestyle while forming a strong team relationship and having as much fun as possible." You can join one of our work outs at any time and try us out!