Coaches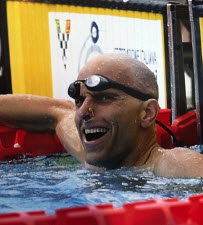 Franklin has over 50 years of swimming experience and has completed USMS level 3 coaching certification. He has been a Sharks member since the team's beginning in 2003 and joined the coaching staff in 2007. He became head coach in 2012.
He places in the top-10 regularly at the USMS and YMCA masters national championships, has won multiple individual and relay events and has many USMS top 10 rankings. In recent World Championships he has multiple top 3 finishes and was World Masters Champion in the 400 IM in both 2012 and 2017.
Franklin had a successful college swimming career at Grinnell College where he was team captain, conference champion, school record holder and NCAA Div III National Qualifier.
Franklin brings a positive attitude along with creative and challenging training methods to the Sharks. He loves everything about swimming including coaching, training, competing and best of all the wonderful individuals he gets to hang out with.
When not coaching or swimming Franklin is a practicing physician and resides in Yellow Springs.
---
Tom Herringer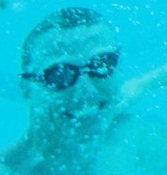 Tom's swimming career started in age group swimming for the Lakewood Recreation Swim Club in Lakewood, Ohio, following in the footsteps of his older brothers and sisters. Swimming continued to be Tom's passion in all 4 years of high school where he was in the district top 10 and State of Ohio top 10 all 4 years. Tom went on to swim at Bowling Green State University, serving as team captain in his senior year. Tom was the first swimmer for BGSU to break one minute in the 100 yard breaststroke.
After college, with each start of Autumn, a small voice in Tom's head would say, "I need to swim!" Finally, after a 22-year hiatus, Tom started his Master's career with the Dayton Area Sharks. Tom would pass through the campus of University of Dayton on his way to mass and watched the construction of the new pool during 2006; the small voice in Tom's head turned to screaming, " I MUST SWIM!" thus Tom began his search for a masters team and found the web site for Dayton Area Sharks. Tom knew immediately knew this was his new team when he saw they only had workouts after work and Saturday at noon. NO MORNING WORKOUTS! After attending practice for a few months, it was obvious to him: Great Team, Great Coaches! Since joining the Dayton Area Sharks Tom has achieved several life time best times.
Tom's next endeavor is to share his passion for swimming as a coach for the Dayton Area Sharks starting the fall of 2012.
---
Jason Hill
Jason is a Level 2 certified coach through the American Swimming Coaches Association, and has been coaching the Sharks since 2008. He currently serves as the primary coach at Dodge Gym, while occasionally filling in at the team's other locations.
A native of Springfield, OH, he swam 8 years for the Springfield YMCA and competed at YMCA Nationals. He is a 2001 graduate of Wittenberg University where he specialized in distance freestyle, earning First Team All-North Coast Athletic Conference honors in the 1650.
After college, Jason returned to the Springfield Family YMCA where he spent 5 years as an assistant coach, working primarily with the 13 and over age group. In 2006, he accepted his current position as head coach at Shawnee High School in Springfield where the team has achieved steady improvement, earning second place finishes in the Central Buckeye Conference the past two years.
As a Masters competitor, Jason has won 8 individual National Championships at the YMCA and USMS levels, and has been on 4 National Championship relays as a member of the Dayton Area Sharks. He was also part of a 3 X 5K open water relay team which won a national title for the Sharks in 2011. He has 20 USMS Top 10 swims for his age group, and has been a part of 13 Top 10 relays, including one which reached All-American status.
---
Richard "Dutch" Kipp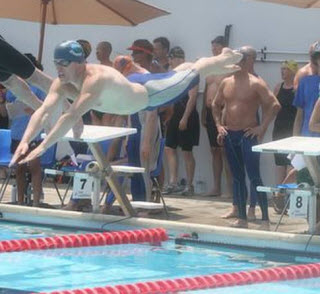 Dutch is a USMS Coaching Level II certified coach. He joined the coaching staff in 2014 after many years of swimming with the Sharks.
Dutch grew up in Northeast Ohio swimming age group for the Olympic coach, Mark Schubert. After college and military service, Dutch spent 2 decades competing as a triathlete, primarily in the sprint and half Iron Man distances. Notable races included Olympic Distance National Championships, La Jolla Rough Water Swim and the Escape from Alcatraz.
As a Masters swimmer, Dutch has competed in several YMCA and USMS National Championships achieving numerous Top 10 finishes.
Dutch and his family reside in the Dayton area where both his children are involved in local USA Swimming and compete at the state and national level.
---
Michele Pujalet-Devitt
Michele has been a certified coach for 22 years for high school, USA, YMCA, and summer teams. She started swimming at age 5 to combat asthma and competed nationally and internationally from the age of 12. She was an undefeated Hawaii high school state champion, swam for Arizona State U then took a hiatus to raise her children.
She has been swimming for Masters for 23 years and has been with the Sharks since it's beginning in 2003. Michele has competed in several World Championships, and has won 9 national titles in USMS and Y nationals. She has had numerous national top ten rankings in 13 events. "The best part of swimming has always been traveling and meeting people. Finishing a hard workout, learning something new from racing and changes in stroke technique keep swimming interesting.
As a coach, I like to make workouts challenging and enjoyable because if swimmers don't enjoy it they won't continue. When I put my head in the water it's quiet and I can tune out the rest of the world and be with me... a great stress reliever!"
---
Cody Rasmussen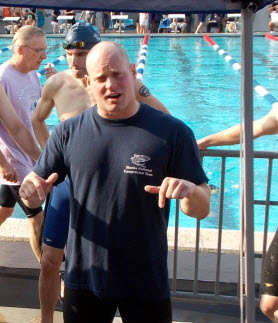 Cody has been coaching for over a decade and a half and has been a competitive swimmer for over three. He created the Dayton Area Sharks in 2003 when it was a small group of only 15 athletes. He created the teamís goal to develop all ages of Masters Swimmers while having as much fun as possible. The team has a unique coaching model where the team is led and run by swimmer-coaches who combine on-deck coaching and in-water coaching. Amazing team members and coaches have made this team into something he never thought possible. Cody now serves as a team and technical advisor role for the Sharks.
Cody is no stranger to swimming. He was a state champion in high school (Cottonwood High School), an Olympic trial qualifier and team MVP in college (US Air Force Academy), and was an All American and national champion multiple times in Masters (Dayton Area Sharks). He is also a triathlete where he raced everything from sprint triathlons to the Ironman.
Codyís favorite things are: family, swimming on a DAS relay, drafting off of Jason Hill, swimming the leg right before Tom Herringer on a relay, and Franklin Halley drafting off him for 5000 meters during an open water swim.
---
Barb Riazzi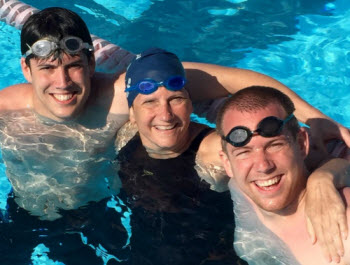 Barb has spent much of her life around pools. She swam age group for Pioneer High School in her hometown of Ann Arbor, Michigan. She went on to swim at Kenyon College. Although she took more than a few years off of swimming herself, she coached her sons in age group summer swimming for four years and later coached Alter High School for eight years. She returned to the pool in 2007 to swim with the Dayton Area Sharks and joined the coaching staff in 2010. Barb has had several top ten finishes at YMCA Nationals and is especially fond of distance freestyle. Masters swimming is family friendly-Barb is shown here on Mother's Day at YMCA Nationals with two of her sons.
---